Masonic Village at Dallas
Masonic Village at Dallas is proud to serve our residents and individuals throughout the Dallas Township, Luzerne County and surrounding communities. As a not-for-profit organization, regardless of our tax-exempt status, we will contribute more than $504,508 over the next 14 years to the Dallas Area School District, Dallas Township and Luzerne County through a Payment in Lieu of Taxes (PILOT) agreement signed in 2012.
Also through this agreement, we make our meeting facilities available for use by staff from the school district, township and county.
Partnerships
 
Masonic Village coordinated programs which were open to the public including educational seminars, a flu vaccination clinic and and Tai Chi for Arthritis® classes in 2016.
Working with local schools and universities, Masonic Village welcomes students seeking internships and job shadow experiences. Since 2015, Masonic Village has partnered with Misericordia University on a Fall Prevention Program with the Physical Therapy Department.  During the semester, students educated residents on exercise and reducing risk of falls while providing various screenings.
"I was able to really bring what I learned in class to the forefront. I had the chance to work on some amazing projects, and I was even somehow able to incorporate my culinary background into blog posts because most of the spots were food related. I want to thank Joy [Hubshman, director of sales and marketing] and Masonic Villages for allowing me do my summer internship with the organization."

Crissy Reed, student at Luzerne County Community College, who interned with Masonic Village's marketing department
Economic Support and Donations
Through contracts with 80 businesses in the local economy, Masonic Village generated expenditures of $524,429 in 2016.
We financially support other charitable groups, including the Meadows Nursing Center Auxiliary, Back Mountain Regional Fire & EMS, Dallas Rotary Club, Dallas High School, Community Cares for Kids and the Luzerne Foundation.
Collectively, Masonic Villages' five locations contributed $120,180 to the Raising a Reader program, which provides books, materials, parent training, engagement support and library connections to empower children to read, learn and succeed.
Resident Efforts
Five residents volunteered their time to help restore a cupola which once stood atop the former Dallas Township School which was torn down in 2014, and the cupola was saved in tribute to the many students who passed through its halls.
"Being a lover of local history, I was heartbroken when the school district decided to raze the building," Elizabeth Martin, Dallas Township Supervisor, said. "Through conversations with residents and other officials, the idea came up to try and salvage the cupola as both a memorial to the school and the Township."
Dallas High School technology education teacher Mark Golden and a group of students facilitated the structure's restoration, but more assistance was needed. Martin put out a call for a Cupola Community Help Day last summer, and Masonic Village residents responded.
"All in all, the gentlemen made a great team!" Martin said. "We really appreciate their time and efforts."
The cupola is located near the baseball and softball fields on Church Street in Dallas. There are tentative plans for landscaping and further beautification. Martin and Golden share a common goal to have the restoration completed by 2017, which marks the township's bicentennial.
Residents participated in an Adopt a Road project to help clean up Country Club Road, which runs parallel to the Masonic Village campus. They collected 17 bags of trash (including some golf balls from Irem Country Club golf course).
Residents contributed to community service projects, including their fifth year supporting the Trinity Presbyterian Church's Backpack Project to benefit the Child Development Center. The program gives children a backpack full of food to take home for the weekend and provides gifts during the holiday season, such as warm clothing. Additionally, residents volunteered to help with Meals on Wheels, deliver baked goods weekly to a local soup kitchen and assist at a local food pantry and halfway house to help women get back on their feet.
Masonic Village at Lafayette Hill
Masonic Village has called Lafayette Hill home since 1976 (after moving from Philadelphia, where it was founded in 1871). Our services have changed as the community and world around us has evolved, but our Mission of Love has always, and will always, help individuals of all ages realize their potential and enjoy a high quality of life.
Local Organizations
Through contracts with 33 businesses in the Lafayette Hill, Conshohocken and Plymouth Meeting areas, Masonic Village generated expenditures of $398,752 in the local economy.
A free health fair on Sept. 23 was open to the Lafayette Hill community and featured wellness information, screenings, an exercise and healthy cooking demonstration and door prizes. We also welcomed visitors for an AARP Smart Driver Training in May.
Masonic Village serves as a polling precinct and invited the community to an American Red Cross blood drive in August. An annual bazaar in October was open to the public, with proceeds supporting Masonic Village resident activities and programs.
We were was pleased to offer the use of its facilities, either free of charge or for minimal costs, to the following organizations: Red Cross of Constantine; various Masonic lodges; Tall Cedars; Chestnut Hill High Twelve Club; the Grand Chapter of Pennsylvania, Order of the Eastern Star; and the Sons of the American Revolution. Collectively, Masonic Villages' five locations contributed $120,180 to the Raising a Reader program, which provides books, materials, parent training, engagement support and library connections to empower children to read, learn and succeed.
Resident Contributions
Residents gather weekly to knit blankets, robes and hats for the Montgomery County Chapter of Project Linus, a national nonprofit organization which donates blankets to children in hospitals, including the Shriners Hospitals for Children; shelters; social service agencies; or anywhere a need arises. Led by resident Barbara Shields, they knitted and donated 25 blankets in 2016.
In 2016, Masonic Village residents donated books to the Fox Chase Cancer Center and clothing and other miscellaneous items to Whosoever Gospel Mission, Impact Thrift Stores and the Salvation Army.
Several Masonic Village residents volunteer with other nonprofits in the local community including the Melody Makers at local skilled nursing communities, the Flourtown Fire Company, Keystone Hospice, Philadelphia Bible Society, Meals on Wheels, on the board of the Mid-Atlantic Christian Endeavor and Board of Trustees for the Mainline Reform Temple, and with the Telephone Pioneers of America collecting items to fill back packs for kids whose parents can't afford school supplies.
Interns
Through Philadelphia Youth Network/WorkReady, a student spent 120 hours with the recreation department, learning the functions of the profession and implementing programs.
The food services department hosted four interns from Job Corps and spent more than 960 hours training the students and preparing them to find jobs. Masonic Village is also instrumental in providing feedback on Job Corps' program, so students and instructors in the trade are aware of changing industry standards.
Twenty-seven students from

Temple University

and 30 from

Lincoln Tech

completed public health clinicals with Masonic Village, working with residents in the personal care and nursing care areas and the wellness center. Students from Temple hosted educational sessions for residents on various health topics. This collaboration enhances the students' learning experience while providing valuable information to Masonic Village residents.
One

Plymouth Whitemash High School

student completed a nursing internship in February, and another student shadowed a nurse.
Staff contributed 437 hours, worth approximately $3,122, toward educating students in clinical settings (based on national community benefits reporting standards, 20 percent of staff time may be quantified as a community benefit).
Local Schools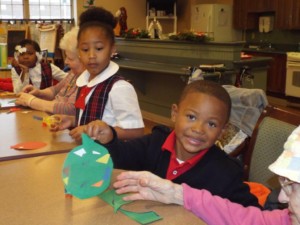 Masonic Village partners with schools in the community for mutually beneficial intergenerational programming among senior residents and youth.
Prodigy Learning Center visits weekly, and Ridge Park Elementary School visits twice a year for intergenerational programs. Second graders from St. Philip Neri Catholic School also met with residents.
"Our center deals with high-risk children who may not have grandparents or a father figure in their lives," said Chris Viteo, director of Prodigy Learning Center, who also works as an RN part-time at Masonic Village. "The visits are really beneficial to the students and residents. Some of the students cry when they can't come."
Masonic Village partners with the Plymouth Whitemarsh High School's Life Skills program for a community-based training program. Four students worked with the food services and environmental services departments at the start of the fall school semester. Students from the high school also conducted computer classes for residents and visited monthly for Game Day.
Unreimbursed Medicare and Medicaid program costs
Masonic Village at Sewickley
Each day at the Masonic Village brings new opportunities for families to find peace of mind, students to engage in real life learning and older adults to make a difference locally and globally. Working together builds a safer, stronger, smarter and happier community!
Cash contributions to area residents and community organizations
Unreimbursed Medicare and Medicaid program costs
Masonic Village at Elizabethtown