Senior living in Central Pennsylvania
Schedule Your Personal Tour Today!
Send us an email, or give us a call to talk more
Call: 800-676-6452
Retirement living in Elizabethtown is unlike anything you've ever seen. Discover how Masonic Village offers a nod to the past and a glimpse of the future.
Surrounded by 1,400+ acres of Lancaster County farmland, you set the pace of your lifestyle amidst Masonic Village's abundance of amenities and activities. Each day brings exciting opportunities. Today might be a good day to learn a new hobby like bocce, painting, photography or explore one of 30+ other clubs.
If you're looking to up your fitness game, check out the wellness center, fitness or aqua classes, three pools (two indoor and one outdoor), personal training and nutrition counseling.
Lifelong learning programs and trips are abundant, and Sell Chapel offers non-denominational and spiritual services. Choose from seven restaurants or a tavern to meet with friends or family, and end your day with a walk past gardens and ponds on more than 12 miles of paths.
We're open for everyone. Contact us today!
More than a retirement community
The Baird Wellness Center focuses on enhancing the body, mind and spirit of our members, which include Masonic Village residents and staff and the greater community.
The Bleiler Caring Cottage is a warm, safe and caring home that provides personalized support services for adults with intellectual developmental disabilities.
Masonic Village partners with high quality child care providers to serve employees and residents of the surrounding communities.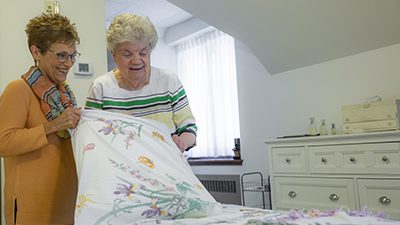 The Masonic Children's Home is an opportunity for children who are being raised by aging grandparents, or who come from various environments which do not provide the security and support necessary for healthy growth and development.
The Masonic Village Farm Market is a popular spot for residents and the local community, featuring more than 50 varieties of apple and peach trees, including pick-your-own, as well as other specialty items.
Individuals and families throughout the United States seeking information, direction and education can find the assistance they need through the Outreach Program.
Explore the beautiful campus of the Masonic Village at Elizabethtown and enjoy our 12+ miles of public walking trails, formal gardens and Veterans Grove.
Sell Chapel is a non-denominational church located at the Masonic Village at Elizabethtown. We invite residents of Masonic Village and the greater community to worship with us.
Request More Information Today!
Decisions concerning admission, the provision of services and referrals of residents are not based upon the applicant's race, color, religion, disability, ancestry, national origin, familial status, age, sex, limited English proficiency (LEP) or any other protected status.