The Bleiler Caring Cottage started 25 years ago as a new approach to assisting caregivers needing respite. It has evolved into a home filled with love and support for eight residents who receive daily care and encouragement.
In 1997, Masonic Village staff remodeled and converted a ranch house, which was formerly employee housing, to use as a temporary respite cottage where adults with intellectual developmental disabilities could stay for short-term visits.
When it opened in March 1998, it was the only in-house respite care facility in Lancaster County. During its first year, the program had 35 guests. In early 1999, the program received approval to accept individuals for permanent residential care and initially converted half of its beds to residential beds. By the end of 1999, four adults lived permanently at the cottage.
In 2000, the program was home to eight people, with one bed for respite care. Each resident had an individual program plan to determine his or her goals. Masonic Village decided to eliminate the respite care program in 2003 and filled the remaining bed with the next eligible person requesting permanent residency.
Cottage Life
The cottage provides an interactive, stimulating environment which focuses on the adults' developmental goals, enhances their self-esteem, recognizes their talents and explores their creativity. The residents have the opportunity to work or volunteer during the day and generally enjoy life on and off campus, with involvement in programs like Elizabethtown College Best Buddies, Special Olympics Pennsylvania and Night to Shine through the Tim Tebow Foundation. Their community service efforts have included packing and handing out food to children in need in Hershey though Cocoa Packs, repacking food for local food pantries through Midwest Food Bank, picking up trash at the Elizabethtown Borough Community Park and writing thank you cards to veterans at Masonic Village.
Debbie Bleiler has been a resident at the cottage since 1999. Her parents, Kenneth and Elaine Bleiler, live nearby in a retirement living cottage at Masonic Village. The Bleilers provide generous donations for the cottage, which is named in recognition of their ongoing support. For the couple, supporting the cottage comes as second nature after providing guidance and care for their daughter for 40 years.
"The quality of life at the cottage is a parent's dream come true," Elaine said.
"It was like a load had been lifted from our shoulders, knowing that Debbie would be taken care of for the rest of her life," Ken added.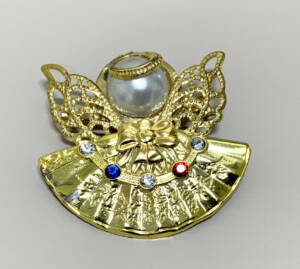 Elaine started her own ministry for the cottage by selling handmade angel creations. The proceeds from the angel pins and bookmarks go to the cottage.
"I started the angel pins so the residents at the cottage could receive more money to experience and receive the things they want to do," Elaine said.
During her third year of sales, she made $10,000, and to celebrate, the couple insisted the staff and residents do something fun.
"No one at the cottage had gone on a cruise except for our daughter, so they went on a cruise to Bermuda," Elaine said.
"Our hope is to see the program expand and provide opportunities and peace of mind – which we now have knowing our loved one is in a caring environment," Ken said.
The couple has contributed greatly to help fulfill their mission. In addition to the generous monetary contributions and cruise the couple provided, as well as other items, they also established the Bleiler Caring Cottage Endowment Fund in 2002, so future residents will have the same opportunities to experience fulfillment and love.