Giving to Masonic Villages
Thanks to generous supporters, Masonic Village residents are given peace of mind knowing they will be taken care of, regardless of their health conditions or financial abilities. Through your gifts, you can ensure residents have opportunities through which they find purpose and joy. Across Pennsylvania, Masonic Villages' five locations are committed to caring for residents regardless of their sex, race, creed or Masonic affiliation. In addition, Masonic Village communities extend quality health care and outreach services to numerous others through home and community-based services.
Do you want to make a gift from your IRA or a gift of stock? Call us today at 800-599-6454, and we can help.
The official registration and financial information of Masonic Villages may be obtained from the Pennsylvania Department of State by calling toll-free, within Pennsylvania, 1-800-732-0999.  Registration does not imply endorsement.
Questions? Call 1-800-599-6454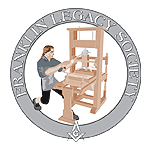 The Franklin Legacy Society recognizes and honors persons of vision and foresight who have taken the initiative, through their estate plans, to strengthen and enhance the good works of one or more of the Masonic Charities of the Grand Lodge of Pennsylvania. Through their benevolence, members of the society are helping to ensure that the vital missions of the Masonic Charities will be available for the benefit of future generations. Click here to see the brochure.
Please contact us for more information.
Who is Eligible for Membership?
Membership in the Franklin Legacy Society is open to anyone who has included a provision in any amount for one or more of the Masonic Charities in their will, revocable trust, life insurance policy or retirement plan. Also eligible are people who have entered into a planned gift arrangement, such as a life estate, charitable gift annuity, charitable remainder trust or charitable lead trust, with a Masonic Charity.
If you qualify, complete the contact form, and we will forward you a short membership application for completion. Upon receipt of the completed membership application, we will forward your Franklin Legacy Society membership packet.
Members of the Franklin Legacy Society are recognized in the following ways:
Invitations to special events
Your name(s) on a special donor wall*
Your name(s) in the Annual Report for the Masonic Charities*
Recognition with the society's lapel pin depicting Bro. Benjamin Franklin at work at his printing press
A distinctive book clock
* NOTE: Donors may choose to remain anonymous while participating in the activities of the Franklin Legacy Society.
A will or living trust that includes one or more of the Masonic Charities as a charitable beneficiary can be structured in a variety of ways. You can elect to leave one or more of the Masonic Charities a specific dollar amount. Or, you can set a percentage of the total value of your estate, or the remainder of your estate, to go to one or more Masonic Charities after you have provided for family and friends. You also may choose to make an unrestricted gift, which gives the Masonic Charities maximum flexibility to use your gift where it will have the most impact.
To view our "Leaving a Legacy of Love" brochure, please click here.
A charitable remainder trust (CRT) allows you to transfer assets into a separately managed trust that will provide you (and/or the lifetime of those you name, such as your heirs) income for your life or a specific period of years (up to 20 years). Upon the trust termination date, the remaining principal will go to the designated Masonic Charity. Any income tax on the plan assets transferred to the charitable remainder trust would then be deferred until paid to the designated heirs, and the estate would receive a charitable deduction based on the remaining value of the assets passing to the designated Masonic charity.
A unique way to make a charitable gift through your estate plan is to name a Masonic Charity as a beneficiary of all or a portion of a retirement account, such as Individual Retirement Accounts (IRAs), 401(k)s, 403(b)s and Keoghs. You can also select an endowment fund or activity of the Masonic Charities to benefit from a retirement gift.
A gift of real estate, especially a gift of a principal residence or vacation residence, may be an attractive way to make a substantial donation to one of the Masonic Charities. Real estate may be donated outright, through your estate or indirectly through a life income plan which would provide you with a stream of income for life. If the real estate has appreciated in value, you will avoid any capital gains taxes that may be due when you sell the property. Gifts of real estate are subject to specific policy guidelines. If you are considering a gift of real estate, either outright or through your estate plans, you should consult with your legal and financial advisors. We will be happy to work with you and your advisors to complete this gift. Donations of real estate must be approved by the Masonic Charities prior to transfer.
A charitable Gift Annuity (CGA) is an irrevocable charitable gift that pays you and/or someone you choose a fixed income, part of which may be tax-free. It is guaranteed income for life. After the passing of the donor(s), the remainder of the CGA goes to the charity. A CGA may be structured as either a one-life gift annuity, in which you or your designated beneficiary receive the income for life; or, as a two-life gift annuity that provides income to you and another beneficiary, such as your spouse.
For a confidential illustration showing potential income and tax benefits from a CGA, please contact us.
A lead trust is the opposite of a remainder trust, where the remainder goes to charity. With a lead trust, the trust pays income to the charity for a term of years, usually around 20, or for the life of the donor. When the trust terminates, the remainder of the trust passes to your children, another designated beneficiary or reverts back to you. This donation strategy is generally appropriate only when donation amounts exceed $500,000. We recommend that you consult with your legal and financial advisors when considering establishing a Charitable Lead Trust. To learn more about making these trusts, please contact us.
If you designate one of the Masonic Charities as a beneficiary of all or a portion of a life insurance policy that has served its original purpose, your estate may receive a charitable estate tax deduction. Many find this is a way to make a larger charitable gift than otherwise possible. Another option is to name the Masonic Charity as the beneficiary and owner of an insurance policy, which may entitle you to an immediate income tax deduction.