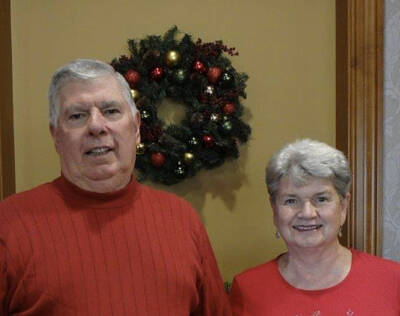 When Curt and Pat Alt decided they wanted to downsize last June, they looked at several different retirement communities. They selected Masonic Village at Dallas because it was a small, quiet community. The villa they chose was located at the end of the street, overlooking a retention pond and woods.
"We came from a property [right outside of Moscow, PA] that had 63 acres and overlooked a large swamp with wildlife and different waterfowl," Curt said. "The Villa we were able to get was the next best thing to our farm. We love everything about it. We eat breakfast every morning in our sunroom, overlooking nature. You don't see any houses or people walking by. It's really enjoyable."
The timing was right for Curt and Pat to move, since maintaining a four-bedroom, three-bath house with a pool was becoming increasingly difficult. So, they toured the Masonic Village community. Despite their concerns about the cost and if it was affordable for them, once staff explained the pricing formula, they couldn't wait to make the move.
"It all worked out perfectly," Curt said. "Maintaining our [old] house was becoming a career. That's all I did. It's very nice to see someone else shovel the snow in the morning and mow the lawn during the summer. When we moved, the maintenance people couldn't have been nicer. They came and hung pictures and mirrors for us. They do everything for us."
Another perk of living at Masonic Village is the proximity to their children and grandchildren, who live 10 minutes away. The couple has three daughters (one set of twins) and two grandchildren, ages 4 and 6.
"It was really important for us to stay in this area to be close to family, and it worked out well," Pat said. "Either they're here or we're there. They are so close. Not seeing them for three days is a long time."
In addition to family, Curt and Pat have made many friends at Masonic Village. "The neighbors are kind and pleasant," they said. "When it was warmer, we did a lot of walking around and started meeting people. When we had the opportunity, we'd invite someone to our house for coffee or wine and to play games.
"While COVID has put a damper on socializing, we really appreciate that they keep this place safe and make sure everyone has an easy opportunity to be vaccinated and boosted," they added.
Pat said she appreciates all the activities and classes offered at Masonic Village. There's always something to do to pass the time, he said.
"We're right next door to a college [Misericordia University] and can go to football games and practices," he said. "Everything is close by. We found a church a mile away. There are grocery stores and doctors right in the area. Where we live is like a dream. It's quiet and calm, and we're very happy here."