Masonic Village at Elizabethtown has over 30 resident clubs. Thanks to residents George Lyter, John Reitz and Carl Wolfe, they've gained another one, the Auto/Hobby Club.
Based out of the old Rooster Woodshop building on Eden View Road (also home to Masonic Village's Amateur Radio Club), the space has several different workspaces, including wheelchair and power-chair accessible tables cut down to size by the group. A closet has tools and other project components, like bolts and screws, for those working in the shop. A round table and chairs accommodate group projects, and residents who want to chat as they work. The corner has what George jokingly calls "the most important part" – a coffee and tea station.
As a former math teacher-turned auto parts store and machine shop-owner, George knows his way around tools. His enthusiasm for classic and antique cars (he has three) partially inspired him to help start the club. He noticed that he and the other classic and vintage car enthusiasts on campus didn't have a place to do small repairs or cosmetic adjustments on their vehicles. The Auto/Hobby Club workspace, with its garage area where residents can bring their cars, now meets this need and many others.
They have 19 members, who started coming to work on projects purely from word of mouth. The group has two retired industrial arts teachers, so they could have classes onsite in the future.  George is currently repairing a penny slot machine from the early 1900s.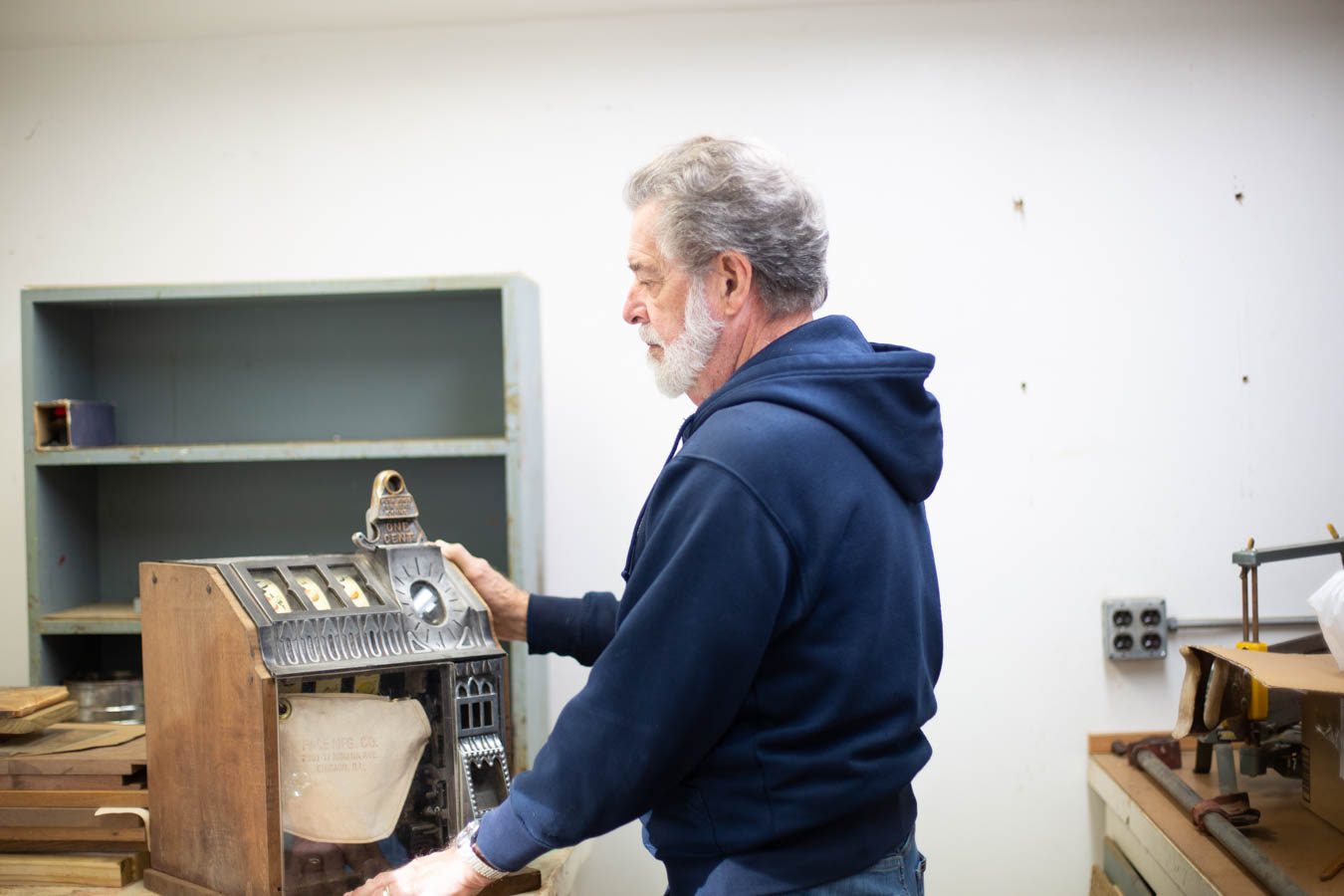 Other projects include lamp repair, jewelry-making, basket-weaving, golf club cleaning and repairs, fly tying and bicycle maintenance. Donated supplies are available for residents to use, and, if they need something not stocked onsite, they pay for their own materials. Masonic Village at Elizabethtown's executive director, Mike Rowe, has also supported their efforts.
"It's a place to get away, and so you don't make a mess in your apartment or cottage," George said.
Current residents can contact any of the club founders to get involved. Find information on monthly activities, including club meetings, at our Elizabethtown, Lafayette Hill and Sewickley campuses in Village Living.