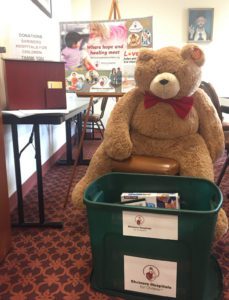 Committed to serving their community through an annual service project, Masonic Village at Dallas residents are collecting donations for the Shriners Hospitals for Children in Philadelphia.
The following items must be new. Donations may be dropped off in the lobby of the Irem Clubhouse, at 64 Ridgway Drive, or the lobby of Masonic Village's Walther Apartments, at 63 Ridgway Drive, both in Dallas, through June 9.
Crafts: Play-Doh, pottery kits, stained glass suncatcher kits,  wood or plastic painting kits, sand art kits, easy paint-by-number kits, models, model glue and paint, needlepoint and sewing items,  watercolor paints, ceramic figurines, jewelry and bead kits, Crayola watercolor paints, acrylic paints, artist thin paint brushes, construction paper, colored pencils and colored tissue paper.
Games: chess, checkers, Operation, Connect Four, Mancala, Rummikub, Pass the Pigs, Master Mind, Sequence, Kazink!, Scattergories, Lucky Ducks, Pente, Othello, Pictionary, Pictionary Jr.,  Scrabble, Scrabble Jr., Backgammon, Guess Who?, Risk and Bop-It.
Books: "Where's Waldo?," "I SPY," musical books, Spanish books and English/Spanish books for teens (age 14 to 20 years).
Miscellaneous: DVD movies (new releases, rated up to PG-13), ping pong equipment, and bike helmets in all sizes.
Cash donations are also welcome and will be used to purchase items. Cash, in any amount, or checks made payable to "Masonic Village at Dallas," placed in an envelope marked "Service Project," can be left in the Shriners Hospitals donation box in the Irem Clubhouse lobby or in the lobby of the Walther Apartments.
The items and money will be delivered to Shriners Hospitals for Children in time for National Children's Day on June 10. Shriners Hospitals for Children are specialty hospitals caring for kids, birth to age 18, with orthopedic conditions and spinal cord injuries.  Children receive all services in a family-centered environment, regardless of the patients' ability to pay.