Nurses Week 2021, May 6-12, is an annual celebration of all that nurses around the world do for their communities. It's a time to recognize, appreciate and invest in the nurses we know or work with every day, as well as the nursing industry as a whole. At Masonic Villages, we get to shine a spotlight on the incredible nurses who have worked tirelessly during the COVID-19 pandemic to better the lives of others. Here are a few of their stories.
Jacob Koerber, LPN, Masonic Village at Elizabethtown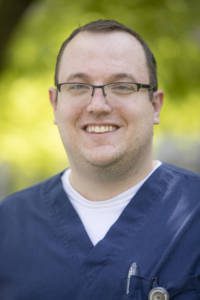 Jacob Koerber, LPN, became very familiar with health care settings as a transplant recipient when he was a child. The experience shaped his life in more ways than one and inspired his career in nursing.
"All my life, I've wanted to give back to people the way they gave back to me," he said.
Jacob started his time at Masonic Village as a server in Grand Lodge Hall for three years. Knowing it was a good place to work, he returned to the Masonic Health Care Center after attending school to become a licensed practical nurse five years ago.
"I enjoy working with residents and getting to know them and their stories," he said. "I also like coming in to help out my co-workers. They're a fun group, and I can count on them to be supportive."
Jacob grows to know the residents and their families, and he resonates with their milestones. One resident who moved onto Roosevelt 4 was unable to walk or talk after having a stroke. He witnessed as she started learning to say simple words.
"It was amazing to see her progress from really needing full assistance to doing things for herself," he said.
Jacob sees residents receiving the highest quality care and knows Masonic Village is also focused on staff inside and outside of work. He and his wife both had COVID-19. When calling into the infection prevention team daily to update his status, he felt his co-workers were concerned with not just his shifts, but him personally.
"They were concerned about my wife, too," he said. "They wanted to make sure we were alright."
From serving food to serving loving care, Jacob has found a good fit at Masonic Village for his professional and personal life.
Taylor Noll, RN, nurse manager, Masonic Village at Elizabethtown
"I've always had a heart for helping people," Taylor Noll, RN, nurse manager, said.
In January, he brought his heart to Masonic Village, wanting to join a mission of hope and compassion. He knew it was one of the top long-term care facilities in Pennsylvania, and he spoke with several employees who recommended it.
Taylor was also inspired to become a nurse by his mother, grandmother and several other relatives who were nurses. His grandmother and he both graduated from Lancaster General College of Nursing (now Pennsylvania College of Health Sciences).
Although he's only been with Masonic Village for three months, Taylor has appreciated his time here.
"I've enjoyed getting to know the residents and staff," he said, "and being able to come in with fresh ideas. I've spent a lot of time learning about my managerial responsibilities and the organization. The support from administration with implementing new ideas has been great."
Throughout COVID-19, with families unable to visit, Taylor has made extra efforts to spend time with residents.
"I come into work and try to make a difference in a resident's day, make them smile and give them someone to talk to," he said.
Among the residents he's met are a woman who worked as a labor and delivery nurse at St. Joseph's Hospital in Lancaster. She was working when Taylor was born, so there's a good chance she assisted with his birth, which was an interesting connection to make.
Taylor has been overseeing transition within the two neighborhoods where he works (Washington 2 and the Transitional Care Unit), focusing on keeping employees motivated and providing a sense of family for them and residents. By rotating staff through each neighborhood, staff get to know each other, and residents become comfortable with them. He's also been able to implement some fun ideas, too, including a monthly birthday celebration for staff and residents.
"It has been a growing experience for sure," he said. "It's stretched me to generate new ideas and help run the neighborhood efficiently. It's been really good for me. There isn't anything I'd rather do than nursing. It's challenging and rewarding. At the end of each day, you think about whose life you impacted today."
Caroline Hari-Betton, RN, Masonic Village at Sewickley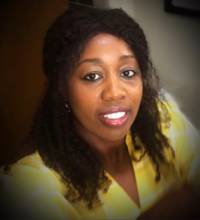 For Caroline Hari-Betton, RN, becoming a nurse was a calling.
"I've always loved taking care of people in their greatest need," she said. "I think you're born with it. You just want to make someone feel better."
Caroline, a Baylor weekend manager at Masonic Village at Sewickley, has been working there for 17 years. She credits her longevity in part to a top-notch team of fellow nurses, CNAs and management. Their bond has only strengthened during the COVID-19 pandemic, she said.
"I love working with them. I also love teaching and making sure my team is able to keep up with taking care of residents and family members the best way we can," she said. "When we come in and things are hard, we encourage each other to keep on going."
In addition to a strong support system at home, Caroline said Masonic Village has been helpful during the pandemic by providing enough personal protective equipment (PPE) for the staff. "We are grateful that we have everything we need," she said.
"It helps knowing you have the right tools to do your job. Masonic has given us the tools that we need to feel a bit more comfortable during this challenging time. This job's success is a team effort, no one can do it alone. The interdisciplinary team members play a role in making it what it is."
Terri Pentland, LPN, Masonic Village at Sewickley
Terri Pentland, LPN, has worked as a nurse at Masonic Village at Sewickley since 1984. Her mother was a nurse and inspired her to follow that path. While helping take care of her elderly grandmother, she knew she had found her niche.
Terri said the best part of her job is interacting with residents, all of whom have their own distinct personalities.
"I feel like it's my responsibility to make them feel wanted and needed," she said.
Terri, who works in the memory care neighborhood, credits her fellow employees for helping her get through the COVID-19 pandemic.
"I think we all leaned on and depended on each other a little more and got closer," she said. "I think Masonic has done a wonderful job through the entire pandemic. We were on it as soon as it began, the precautions were taken … I think they did a very good job."
Chris Viteo, RN, Masonic Village at Lafayette Hill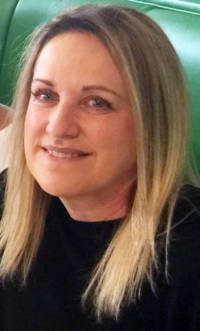 Chris Viteo, RN, gets choked up when describing the past year at Masonic Village at Lafayette Hill.
A 3-11 nurse, she worked on the COVID-19 neighborhoods during the pandemic and also took on the 3-11 supervisor position during that time. Chris has worked at Masonic Village for 16 years, and said this past year was probably the most challenging of her career.
"It [COVID] came on so quickly, and we didn't know anything about it," she said. "Not only was it fearful for the residents, but for me personally and my family. Losing people was really hard. It was almost like a tornado – it would hit one town and level it and hit another town and not touch it. Some people were affected quickly and some were not. We [nurses] were the bridge to helping the residents understand what was happening."
Chris relied on her family and fellow nurses to get through the difficult times. She said she felt safer due to the support from other staff working on her neighborhood.
"We knew what we had to do and tried to stay very efficient," she said. "Everyone was scared, but we tried to stay really strong. When you become a nurse, you make a commitment – you're not going to not take care of someone because you're scared. That's not what it's about. When we saw a resident get better, it was a light at the end of the tunnel. It was a victory."
Belinda Hawkins, RN, Masonic Village at Lafayette Hill
Belinda Hawkins, RN weekend supervisor, worked 10 to 16-hour days during the COVID-19 pandemic and also ran the personal care neighborhood when needed.
"I was all over the place," she said.
Belinda has worked at Masonic Village for 28 years, and said she enjoys engaging with residents and hearing their stories. She wanted to be a nurse since she was a 9-year-old in Catholic school.
"I was able to work one summer with the nuns at LaSalle College, and we did community service," she said. "As a teenager, I used to volunteer at a hospital. I just liked helping people. I think my mission in life is for me to help and to give back."
Belinda said her faith in God and the support of her fellow employees made a big difference during the pandemic.
"It was like we were there for one another, and we made sure everybody was okay. It was an experience, but it brought some of us closer together. I made new friends. That was really nice."
Marrion Daniels, LPN, Masonic Village at Warminster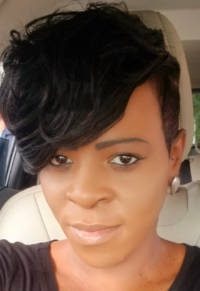 Marrion Daniels, LPN, first decided she wanted to become a nurse in high school, when she helped care for her older sister, who became paralyzed due to complications from a surgery.
"I worked as a CNA for years, went back to school and pursued nursing," she said. "Then I became my mom's caregiver. I guess it was instilled in me. There's a long history of caregiving."
Marrion has worked at Masonic Village for almost five years. She said her favorite part of the job is caring for the residents. Working in such a small neighborhood, she gets to know everyone by name.
"I enjoy working with seniors," she said. "I really like listening to their stories and how they grew up and what they did in life."
She credits her faith in God for getting her through the throes of the COVID-19 pandemic, when she was working double shifts in both the personal care and nursing care neighborhoods.
"Just because something goes on in the world, you can't stop. You have to continue going," she said. "People were depending on me, so I didn't skip a beat. Going to work was challenging, but I wasn't fearful. It just had to get done. I'm very committed to my job."
Join our team of heroes by viewing career options.