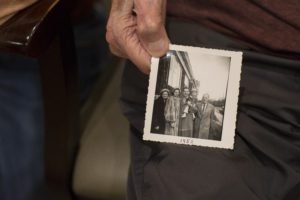 Family traditions come in innumerable varieties, from eating certain meals on holidays to passing down a treasured heirloom. The Schnabel family has turned retirement into a tradition: the last three generations have all come to live at Masonic Village.
The Masonic Village legacy started with the parents of Ken Schnabel Sr., Frank and Isabel Schnabel, who lived in personal care at Masonic Village at Elizabethtown. They had lived with him and his wife, Georgette, for 13 years before coming to Masonic Village, and were some of the last people to be buried in the cemetery behind the campus' orchard. His parents influenced Ken Sr. and Georgette to move to Masonic Village themselves. In 1990, the couple moved into a retirement living apartment. After moving to Masonic Village, Ken Sr. enjoyed working his campus garden plot and growing orchids – he is known as the "orchid man" – while his wife enjoyed painting ceramics before she passed away.
Ken Sr. now resides in personal care, just as his parents once did. Although he no longer has a garden plot, he still loves plants, keeping several pots of African violets on his windowsill.
"It's easy living," Ken Sr. says. Nevertheless, he was still surprised when his son, Ken Jr., informed him that he and his wife, Mary Jane, would be moving into the very same apartment complex he and his wife had lived in for 20 years.
"I thought he would move to Arizona – they visited there a lot," he said.
At the same time, he knew it was inevitable. "I figured they would come someday," he said. After all, it is a family tradition.
Ken Jr. and his wife moved to campus in October 2017. At first, after living outside of Philadelphia for 31 years, they had to adjust to their quieter surroundings. Now, they are all settled in, having unpacked the 96 boxes that were initially stacked in their living room.
"The whole moving process was kind of a snap," Ken Jr. said. "We'd visited since the 90s, so we picked a date after we retired, and we knew what apartment we wanted." The couple often has Ken Sr. over for dinner (he likes Mary Jane's cooking, especially her pot roast) or to watch Eagles football games.