As part of our Mission of Love, Masonic Villages extends services to neighboring communities and individuals of all ages. While many activities were placed on hold or modified in 2021 due to the COVID-19 pandemic, staff and residents were still able to impact neighbors and local organizations through donations of time, money and expertise, as well as items such as food and clothing.
The Masonic Villages proudly provided $36.1 million of charitable care and services across Pennsylvania in 2021. This amount consists of approximately $10.1 million (at cost) of free care and services and $26 million (at cost) for care and services above the amount reimbursed by Medicare, Medicaid and other third party payers.
In addition, Masonic Villages provided more than $323,521 in scholarships, donations to local emergency services providers, internships and community assistance to our neighbors in Dallas, Elizabethtown, Lafayette Hill, Sewickley and Warminster.
Community Engagement & Support
Masonic Villages works with other organizations to help fulfill needs in the community, some of which also benefit our residents. Many of our programs with local schools and organizations in need of meeting space were postponed in 2021, and we look forward to re-engaging with these groups safely in 2022.
For the seventh year, Masonic Village at Dallas collaborated with the physical therapy department at Misericordia University on a Balance & Fall Prevention Program. The program encourages good health, exercise and well-being, while giving students real-life field experience. In spite of COVID 19, the program was held during the fall semester of 2021, with proper protocols to assure the safety of both the residents and students.
To benefit Elizabethtown Community Housing and Outreach Services (ECHOS), which runs a winter shelter at St. Paul's Methodist Church for those with emergency living needs, Masonic Village at Elizabethtown's environmental services department washed 2,870 pounds of sheets, blankets, comforters and towels free of charge, donating staff time valued at approximately $1,664.
In a partnership with Elizabethtown College, biology students have the opportunity to earn a 40-hour CNA certification, which includes classwork, direct interaction with residents and a competency test.
Stacy Schroder, director of wellness and prevention, and Kristine Tebay, director of land management, of Elizabethtown, worked with an Eagle Scout on his community project. The scout designed an orienteering course, which challenges participants to navigate between checkpoints, to be placed at Masonic Conference Center – Patton Campus for residents, employees, Pennsylvania Masonic Youth Foundation members and the community.
"Working as a CNA has allowed me to get in tune with the importance of patient care medically, but also understanding that medicine is more than curing people, but care and being empathetic toward residents."

Bryanna Miller, CNA, Masonic Village at Elizabethtown, and biology major, Elizabethtown College, class of 2023
Business & Economic Support
As an institute of purely public charity, Masonic Villages is not required to pay real estate taxes; however, we understand the importance of helping to pay for vital community services. Through Payment in Lieu of Taxes (PILOT) agreements for Dallas, Elizabethtown, Lafayette Hill and Sewickley, we paid $2,266,266 to local boroughs, townships, counties and school districts in 2021.
Supporting the local economy is also a priority. Through contracts with 339 businesses in the Dallas, Elizabethtown, Lafayette Hill and Sewickley areas, Masonic Villages purchased approximately $5.95 million of products and services.
For the past 15 years, Masonic Villages has been implementing a comprehensive sustainability plan, including renewable energy projects, energy auditing and more than 80 individual efficiency projects. Eco-friendly operations and initiatives are an important investment in our community's and planet's future, whether it's restoring a portion of the Conoy Creek, expanding solar power or protecting soil and water resources while operating a beef cattle and farm enterprise.
Masonic Village at Elizabethtown and Penn State University established a mutually beneficial partnership in 2018 that allows students to gain practical experience and complete academic requirements, while working to advance Masonic Village initiatives such as sustainability and improved use of technology.
Masonic Village at Elizabethtown was recognized in 2021 by the Lancaster County Employment Coalition for employing and providing a positive working environment for individuals with disabilities.
Masonic Villages seeks ways to support other charitable organizations whenever possible. We contributed more than $53,260 to fire and EMS companies, libraries and other causes in 2021. Efforts also included:
Donations of clothing and books to Salvation Army, Goodwill, libraries and other local thrift stores. In Lafayette Hill, residents donated puzzles and books to Fox Chase Cancer Center and clothing and other miscellaneous items to Whosoever Gospel Mission, the Salvation Army and the National Federation for the Blind.
The Masonic Village Farm Market donated produce weekly to the Community Cupboard of Elizabethtown, East Donegal-Conoy Food Banks and the Elizabethtown First Church of God meal program. During their Photos with Santa, Mrs. Claus and the Elves events, the Farm Market accepted donations for ECHOS, raising $500 for the program.
Masonic Village Hospice raised more than $8,641 for the 2021 Relay for Life of Lancaster, benefiting the American Cancer Society.
Masonic Village at Elizabethtown and the Masonic Village Farm Market partnered with Northwest EMS and the U.S. Marine Corps Reserve to support the Lancaster County Toys for Tots collection, donating 13 overflowing boxes of toys.
We contributed $15,000 to the Elizabethtown Area Education Foundation to help generate support for the foundation's grant program to enhance learning experiences in the classroom and beyond.
At Masonic Villages' Elizabethtown and Sewickley locations, we awarded $20,000 in scholarships to eight graduating high school seniors and college students who volunteered at least 100 hours with us during their high school years.
Masonic Village at Elizabethtown provided shuttle busses for the National Night Out on Aug. 3. After the organizer's ice supplier backed out, our food services department donated ice for the event.
"On behalf of the Northwest Lancaster County Regional Police, West Donegal Township and Mount Joy Township, we would like to sincerely thank you for your donation of community shuttle buses at National Night Out on Aug. 3, 2021. Your support is greatly appreciated. National Night Out was truly a success and would not have been possible without the support of our community and neighbors like you."

Mark E. Mayberry, Chief of Police, Northwest Regional Police Department
Educational Opportunities
Masonic Villages is proud to work with local schools and universities to welcome students seeking internships and job shadow experiences to help enhance their formal education. In 2021, some of these opportunities were accomplished online, while others were postponed until we can invite students back safely.
Across the state, interns joined us in the public relations, marketing and food services departments.
"I feel that through my experience with Masonic Village at Dallas, I gained a new perspective on senior care. I gained great connections to not only the staff, but residents as well. They all really made me feel welcomed. I was able to apply critical thinking and problem solving skills throughout the summer. The development of these skills will definitely help me in the future no matter what career path I choose. During my internship, I was able to see all of the great work of Masonic Village. Masonic Village truly cares about all their residents and assists them with anything they may need. I loved the compassion of the organization that made residents feel comfortable to age."

Connor R. Beyer, a senior at Pennsylvania State University, majoring in Health Policy Administration, who interned with Masonic Village at Dallas in summer 2021. He is planning a future career as a Nursing Home Administrator.
In clinical settings, including the pharmacy, music therapy, therapeutic recreation, social services, nutrition, wellness, hospice and environmental services departments, staff supervised more than 50 students for an estimated 6,357 hours – time valued at approximately $33,116*.
*Based on national community benefits reporting standards, 20% of staff time overseeing students in a clinical setting may be quantified as a community benefit.
Included in the values above, students from University of Sciences and Lake Erie College of Osteopathic Medicine completed public health clinicals with Masonic Village Pharmacy. We anticipate continuing relationships in 2022 with Beaver County Career and Technology, Pittsburgh Technical College, CCBC and other schools, colleges and universities.
Masonic Village at Elizabethtown's food services department has partnered with Lancaster Career and Technology Center's Mount Joy campus since 2015 to provide internships for the culinary arts degrees. They also formed a partnership in 2021 with the Culinary Institute of America in High Point, NY.  The first student completed a 550-hour internship, and after graduating in August, came back to work for us.
For several years, Masonic Village at Elizabethtown has teamed up with Lancaster-Lebanon Intermediate Unit 13 to offer students internships and real world job experiences in environmental services and other fields. We hosted 17 students in 2021.
"We thank Masonic Village for being willing to take on our program. The longer we are here as an in-person program, the more we get to know the different departments and people, and we have the ability to expand into other areas and create unique experiences for interns. We have quite a variety of roles here. It's not your typical health care or even retirement community."

Allysa Wenrich, IU13 program instructor
Outreach & Home Assistance
Funded through generous contributions, the Masonic Children's Home in Elizabethtown does not charge individuals, organizations, or the state or federal government for its services. It provides a home for up to 40 youth who are being raised by aging grandparents or who come from various social or economic environments which do not provide necessary security and support. Children do not need to have a Masonic affiliation in their family to be eligible for services. In 2021, the Elizabethtown Area School District received $431,119 through reciprocity agreements with the school districts from which the children come to us.
Youth at the Masonic Children's Home sorted through plastic caps and lids collected by the local community to send to Green Tree Plastics- ABC Partnership, in Evansville, Illinois. The company makes benches out of the recycled plastics for elementary schools. Masonic Village at Elizabethtown resident Sonja Alcon is a mentor for the program and said this will provide Bainbridge Elementary School, Elizabethtown Area School District, with two "buddy benches" for their playground. Students can sit on buddy benches if they are looking for another student to come play with them
Masonic Village's Outreach Program distributed $18,949 in home assistance support to individuals and families. The program also operates a Durable Medical Loan Equipment Closet, which provides equipment to families on a short-term basis at no cost. We supplied wheelchairs, walkers, canes, shower chairs and other equipment to eight individuals in 2021.
Community members at any stage of life can find assistance at Masonic Villages. Last year, in Elizabethtown, an average of nine individuals, including community members and Masonic Village residents, participated in the monthly Dementia Caregiver Support & Education Group. An average of four individuals per month attended meetings of the Bereavement Support Group. Masonic Village contributed approximately $1,542, including 48 hours of staff time, materials and classroom space, toward these support groups.
Many Masonic Villages residents are active in the community. Last year, residents contributed to service projects that benefited children, students, older adults, emergency service providers and those with food and housing insecurities.
Masonic Village at Dallas residents participated in an Adopt a Road project to help clean up nearby Country Club Road and volunteered at the Back Mountain Food Pantry, along with donating nonperishable goods and $7,028 to support its mission. They also contributed donations to Toys for Tots and Pyramid Healthcare and provided lunch to Habitat for Humanity volunteers. For the holidays, residents assembled 1,900 items and hand-delivered care packages for Meadows Nursing Home and provided holiday cookies to Dallas Township First Responders.
A dozen members of Masonic Village at Sewickley's PLARN (plastic yarn) group knit plastic mats for the New Life Community Church in Pittsburgh, which donates them to homeless individuals. A group of residents also knit blankets, robes and hats for Project Linus, a national nonprofit organization which donates blankets to children in hospitals, including the Shriners Hospitals for Children; shelters; social service agencies; or anywhere a need arises. They donated 60 blankets, 17 fleece blankets and 98 quilts in 2021. Residents and other friends of the Masonic Village at Sewickley Woodworking Group partnered with members of the Shrine to make toy trucks throughout the year, sell them and donate the proceeds to the Shriners Hospitals for Children. In total, $1,136 was donated in 2021.
Through the sales of handmade floral arrangements, jewelry, blankets, cards, gift bags and much more, the Craft Group at the Masonic Village at Elizabethtown raises money to support others. In 2021, they donated proceeds to numerous Masonic and community charities, including $1,000 to Northwest EMS and $1,000 to Friendship Fire & Hose. The Retirement Living Resident's Association gave $1,000 to Northwest EMS and $1,000 to the Community Cupboard of Elizabethtown. The Masonic Village Piece Maker Quilt group, comprised of 26 women, gave money from their sales to campus groups and $1,000 to Northwest EMS and $500 to ECHOS. They also sent quilts to the Kentucky Tornado Relief Fund.
The Grey Lions of Elizabethtown, Masonic Village's Penn State alumni interest group, awarded four $1,000 scholarships in 2021 to deserving Penn State students.
Residents of the Bleiler Caring Cottage participated in several community service projects, including garden clean up at Community Cupboard of Elizabethtown and planting flowers at Cornerstone Youth Center. Twice a month, they cleaned up trash at the Elizabethtown Train Station and/or Wolgemuth Community Park. For the 11th year, they also participated in Share-A-Card, providing cards for terminally ill individuals across the country. Residents collected donations for Toys for Tots, community food drives and hurricane victims.
Sell Chapel
Through the Congregation of Sell Chapel's Community Outreach ministry, members donated $46,621 in offerings toward Elizabethtown Community Housing and Outreach Services (ECHOS), The Children's Playroom of Lancaster, Hope Within, Communities That Care, Naaman Center, the Christmas Shop, the Community Cupboard of Elizabethtown, Cornerstone Youth Center, the CROP Walk and the Emergency Fund which has helped during floods and tornadoes. Members of the congregation volunteered with ECHOS and the winter shelter, The Children's Playroom and other programs in Lancaster County.
"We wanted to give a big thanks to the Masonic Village Home and Community Based Services team for collecting these much needed items! This overflowing shopping cart will help stock our shelves for the clients of the Cupboard. Thank you to the team at Masonic Villages, it is much appreciated!" ~ Community Cupboard of Elizabethtown
Beyond regular office hours, many staff are active leaders in professional associations where they share their expertise while gaining knowledge and connections to enhance their work at Masonic Village. Staff serve on:
Staff also commit their time as volunteers with local churches, emergency service providers and other not-for-profit organizations, including:
Community Benefits Financial Summary
In 2021, Masonic Villages proudly provided $36.1 million of charitable care and services across Pennsylvania in 2021. This amount consists of approximately $10.1 million (at cost) of free care and services and $26 million (at cost) for care and services above the amount reimbursed by Medicare, Medicaid and other third party payers.
In addition, Masonic Villages provided more than $323,521 in scholarships, donations to local emergency services providers, internships and community assistance to our neighbors in Dallas, Elizabethtown, Lafayette Hill, Sewickley and Warminster.
Masonic Library & Museum of Pennsylvania
The Masonic Library has one of the finest collections of books and Masonic records for the study of Freemasonry in the United States. It is a place of interest for members and academics alike, providing research and lending services in an effort to advance knowledge and understanding of the fraternity, its meanings and its place in history. The Masonic Museum consists of more than 30,000 items of Masonic and American significance.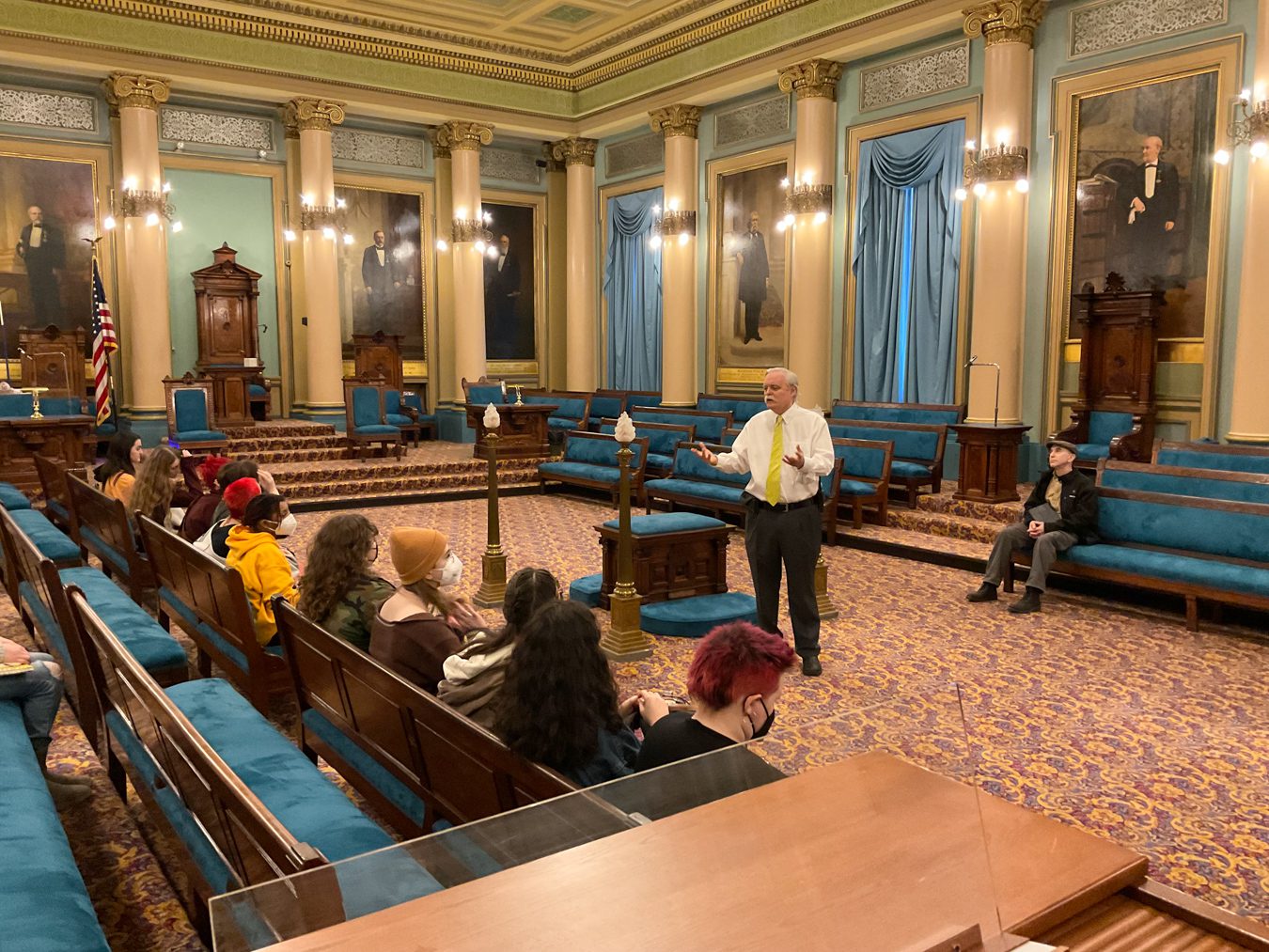 Educational Opportunities
The Masonic Library and Museum welcomes researchers and students to learn from its architecture, books and artifacts. Two researchers visited 2021, including Carl Doan, a New Jersey Mason doing some research on a historical lodge in Lancaster County, and Hannah Pinkham, a Harvard University PhD student, who spent several weeks in the library researching French speaking lodges warranted by the Grand Lodge of Pennsylvania.
Seventeen students from Professor Jeff Dion's Illustrators II class at Moore College of Art & Design(shown right) toured the Masonic Temple and its unique meeting rooms. The students sketched statues and used their drawings as the basis for a homework assignment about drawing drapery on the human figure. For the semester's final project, they used the unique designs of the rooms as a reference by using photos.
Pennsylvania Masonic Youth Foundation
The Pennsylvania Masonic Youth Foundation (PMYF) provides resources, training, conferences and adult leadership to a variety of Pennsylvania Masonic sponsored youth groups, with programs continually expanding to serve more youth in more areas of the state.
In its 40th year, the foundation's programs have grown, but its vision has remained constant. Support has deepened for the Masonic youth organizations in Pennsylvania, including DeMolay, Job's Daughters, Knights of Pythagoras, Rainbow Girls and Ruth Mitchell Tucker Girls Youth Department, which foster the values of Freemasonry and give youth a place to develop leadership, organizational skills, responsibility and civic awareness.
Community Support & Donations
Youth members among these organizations contributed more than 8,500 hours of volunteer service to support their communities. PMYF granted $23,500 toward the support of 30-40 youth-led service projects throughout the Commonwealth. The groups contributed to food and clothing drives, park cleanups and other community service needs.
Since 2020, the Rainbow Girls Sunshine Assembly No. 41 has been volunteering their time and efforts to the Peckville Assembly of God Food Pantry.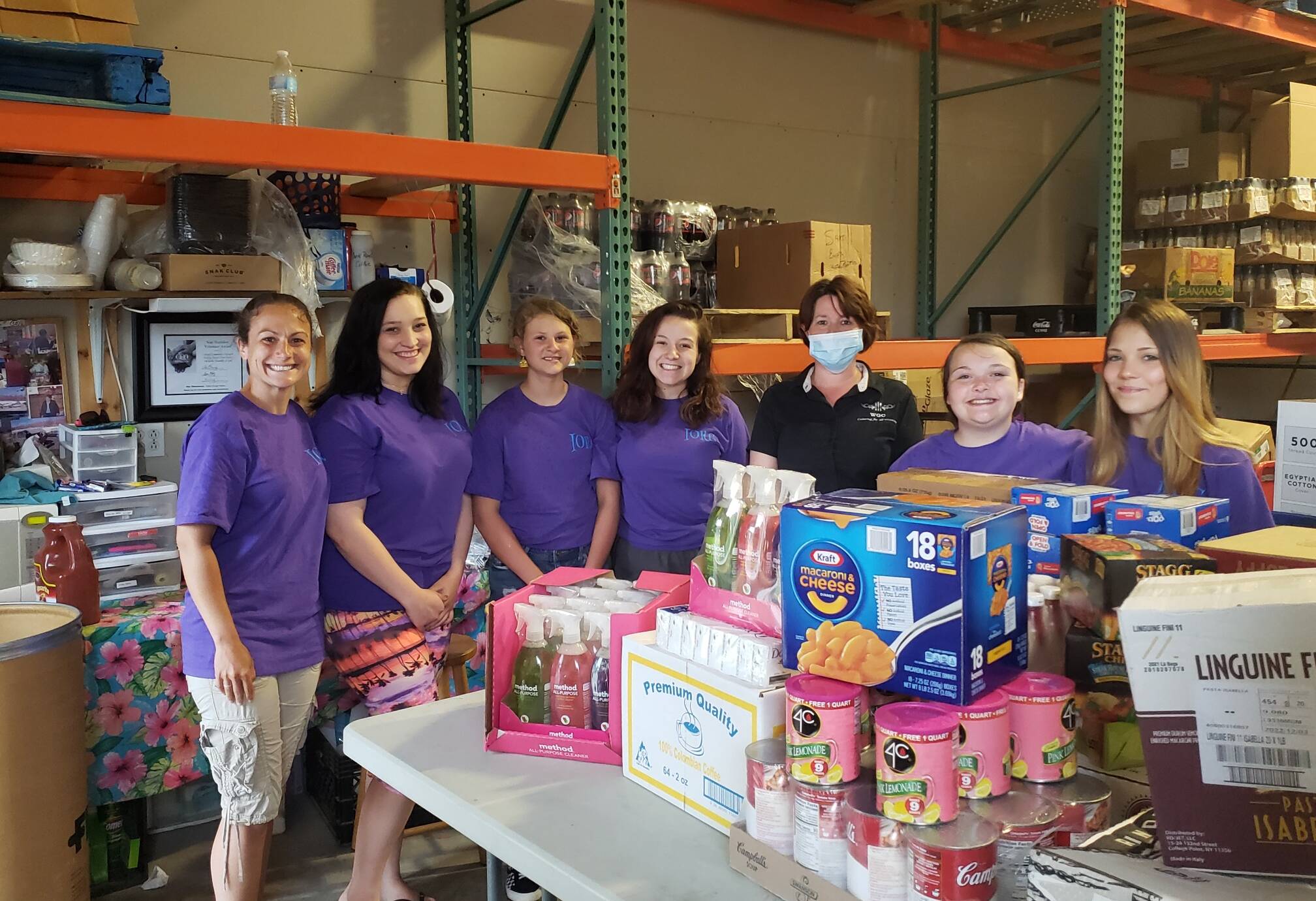 "Food insecurities are so prevalent in our communities. The project was a huge success. On any normal week, we could serve hundreds of food insecure individuals, but as the pandemic raged on, we served nearly 1,000 people every week.

 "The girls are grateful for this opportunity to serve their community because they realize the dire need and that at any point in time, it could be them, their friends or their family who may need this support. I am amazed at the willingness of the girls to give back to their community. They love that they can impact the lives of total strangers. I have never heard them complain of the long exhausting hours they spend at the pantry distributing the food. Instead, I hear voices of hope and genuine compassion for the people. I always hear them asking, 'What can we do next and when can we come back to help?' It's inspiring to see their smiling faces at the end of the day of service. These girls are our future, and they are making the right choices in life to serve their community." 

 Paula Geary, Advisor
The Food for Friends program was started in 2020. In 2021, PMYF provided $50,599 toward more than 6,250 meals delivered to the doorstep of families who were experiencing food insecurity. 
Educational Opportunities
Through PMYF's Educational Institute, 1,978 individuals attended virtual and in-person Educational Institute workshops. Educators, human service professionals and school administrators from surrounding communities have access to these sessions free of charge, at a cost of $37,000 to PMYF for instructor fees.
In 2021, $193,850 in scholarships were given to young adults to support them as they pursued their dreams of higher education.