Mission Related Care & Services
The Masonic Villages proudly provided $34.6 million of charitable care and services across Pennsylvania in 2020. This amount consists of approximately $9.9 million (at cost) of free care and services and $24.7 million (at cost) for care and services above the amount reimbursed by Medicare, Medicaid and other third party payers. 
In addition, Masonic Villages provided more than $410,532 in scholarships, donations to local emergency services providers, internships and community assistance to our neighbors in Dallas, Elizabethtown, Lafayette Hill, Sewickley and Warminster.
2020 Community Impact Report
As a not-for-profit organization, and as part of our Mission of Love, Masonic Villages extends services to surrounding communities, filling the needs of individuals of all ages. While many efforts were placed on hold or modified in 2020 due to the COVID-19 pandemic, staff and residents were still able to impact neighbors and local organizations through donations of time, money and expertise, as well as items such as fresh produce and knit hats.
Community Engagement & Support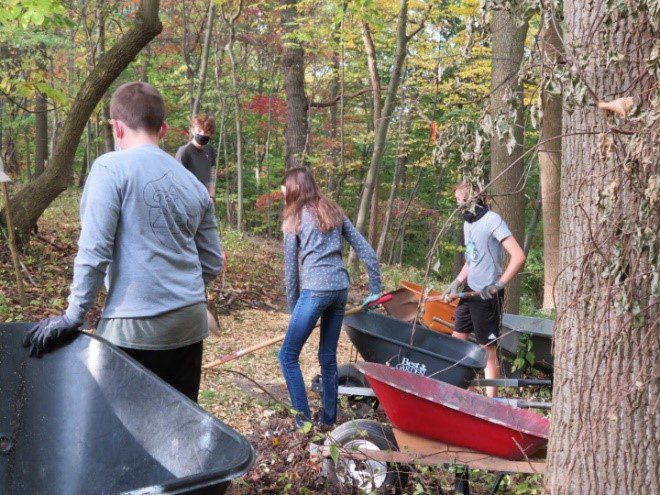 Masonic Villages works with other organizations to help fulfill needs in the community, some of which also benefit our residents. Many of our programs with local schools and organizations in need of meeting space were postponed in 2020, and we look forward to re-engaging with these groups safely in 2021.
In fall 2020, more than 25 volunteers from Masonic Village and the community helped add a new walking trail to the Sewickley campus. The project helped 13-year-old Ryan Steinfurth, a member of Boy Scouts of America Troop 243, Seneca District – Laurel Highlands Council who at the time was a Life Scout, earn the Eagle Scout rank.
"I thought of Masonic Village to be my project beneficiary because when I was a Cub Scout in elementary school, we used to sing Christmas carols and bring cookies for residents," Ryan said. "I hope my project will benefit the residents of Masonic Village by providing them with extra ways to get exercise." 
For the sixth year, Masonic Village at Dallas collaborated with the physical therapy department at Misericordia University on a Balance & Fall Prevention Program. The program encourages good health, exercise and well-being, while giving students real-life field experience. In spite of COVID 19, the program was held during the fall semester of 2020, thanks to proper protocols to assure the safety of both the residents and students.
The Greater Elizabethtown Area Recreation & Community Services (GEARS) hosted fitness classes at our Elizabethtown campus for the first three months of 2020, and 475 Masonic Village residents and people from the local community participated. Masonic Village donated approximately $25,912 worth of space for these programs.
To benefit Elizabethtown Community Housing and Outreach Services (ECHOS), which runs a winter shelter at St. Paul's Methodist Church for those with emergency living needs, Masonic Village at Elizabethtown's environmental services department washed 3,475 pounds of sheets, blankets, comforters and towels free of charge, donating staff time valued at approximately $2,015.
In a partnership with Elizabethtown College, biology students have the opportunity to earn a 40-hour CNA certification, which includes classwork, direct interaction with residents and a competency test. Three students participated in 2020.
In early 2020, eight fourth grade classes, or about 120 students, from Milton Hershey School worked with six Masonic Village at Elizabethtown residents on a project using a process called "design thinking" to create assistive devices that older adults may find useful. The students interviewed the residents to find out what their needs were and what obstacles they may run into with daily tasks. The COVID-19 pandemic interrupted the project, and while residents were unable to return to the school to see and test the final devices, their contributions were instrumental in the kids' education. Both groups look forward to connecting on future projects.
Watch the students and residents in action:
Business & Economic Support
As a not-for-profit organization, Masonic Villages is not required to pay real estate taxes; however, we value municipalities' services and understand their plights, as costs impact local taxes. Through Payment in Lieu of Taxes (PILOT) agreements signed in Dallas, Elizabethtown, Lafayette Hill and Sewickley, we paid $2,232,396 to local boroughs, townships, counties and school districts in 2020.
Supporting the local economy is also a priority. Through contracts with 356 businesses in the Dallas, Elizabethtown, Lafayette Hill and Sewickley areas, Masonic Villages purchased approximately $4.86 million of products and services.
Masonic Village at Elizabethtown was named a 2020 Exceptional Business Partner for supporting the mission of Goodwill Keystone Area. Through Goodwill's employment services, environmental services staff spent more than 250 hours, valued at $911*, training Rebecca Shultz who is now employed full-time with Masonic Village as an environmental services worker.  
For the past 14 years, Masonic Villages has been implementing a comprehensive sustainability plan, including renewable energy projects, energy auditing and more than 80 individual efficiency projects. Eco-friendly operations and initiatives are an important investment in our community's and planet's future, whether it's restoring a portion of the Conoy Creek, expanding solar power or protecting soil and water resources while operating a beef cattle and farm enterprise.
Masonic Village at Elizabethtown and Penn State University established a mutually beneficial partnership in 2018 that allows students to gain practical experience and complete academic requirements, while working to advance Masonic Village initiatives such as sustainability and improved use of technology. In 2020, these initiatives included a hydroponic garden planter, which is easier to manage than a regular garden, and a strength augmenter for lifting.
Masonic Villages seeks ways to support other charitable organizations whenever possible. We contributed more than $33,100 to fire and EMS companies, libraries and other causes in 2020. Efforts also included:
While a senior at Quaker Valley High School, Elizabeth Wiehe was looking for a senior living community where she could teach ballet to older adults as part of her Girl Scout Gold Award project. Masonic Village at Sewickley welcomed her to create and lead a series of chair ballet classes for residents in the personal care area. Elizabeth's efforts earned her a Gold Award, as well as a volunteer scholarship. She is currently majoring in dance, with a minor in arts administration, at George Mason University.

"Any idea I had, Richelle [Divito, recreation coordinator] and all staff were so open to. They wanted to help me any way they could. It made the process easier. I'm grateful for the teamwork and community they created and allowed me to be a part of. I learned a different perspective on the world. It took me out of my comfort bubble. I got really close to the residents, and they even helped me through my college application process and gave me advice. To be recognized for all the hours I spent planning, it was a great feeling."
Educational Opportunities
Masonic Villages is proud to work with local schools and universities to welcome students seeking internships and job shadow experiences to help enhance their formal education. In 2020, some of these opportunities were accomplished online, while others were postponed until we can invite students back safely.
Across the state, interns joined us in the public relations department and in administration. In clinical settings, including the pharmacy, music therapy, therapeutic recreation, social services, hospice and environmental services departments, staff supervised more than 110 students for an estimated 12,916 hours – time valued at approximately $63,207*.
*Based on national community benefits reporting standards, 20% of staff time overseeing students in a clinical setting may be quantified as a community benefit.
Included in the values above, students from University of Sciences, Lake Erie College of Osteopathic Medicine, Penn State Harrisburg, Prism Career Institute, Drexel University and La Salle University completed public health clinicals with Masonic Villages. We anticipate continuing relationships in the future with Beaver County Career and Technology Center, Pittsburgh Technical College, Community College of Beaver County, Lancaster Career and Technology Center and other schools, colleges and universities. For several years, Masonic Village at Elizabethtown has teamed up with Lancaster-Lebanon Intermediate Unit 13 to offer students internships and real world job experiences in environmental services and other fields. We hosted 15 students in 2020.
Paige MacConnell is working toward an integrated Bachelor of Science in Health Policy and Administration and Master of Health Administration at Penn State University. She completed her internship last summer with Noah Davis, executive director of Masonic Village at Dallas. Her goal is to become a licensed nursing home administrator.

"Although this was primarily a virtual internship, Mr. Davis tried to expose me to as much as he could and made it a valuable, worthwhile experience. I have gained a much better understanding of this side of healthcare, specifically independent living. In addition, I had the opportunity to learn about the budget season and what it entails. Completing this internship during a pandemic was a learning experience in itself, and I was able to observe how Masonic Village adapted to those changes. I believe the skills and knowledge I gained will definitely help me down the road in my future endeavors. Everyone worked together as a team, and the focus was always put on the residents. I am very fortunate to have had this experience with such a devoted team of caring individuals."
Masonic Village at Elizabethtown's food services department has partnered with Lancaster Career and Technology Center's Mount Joy campus since 2015 to provide employment internships for the culinary arts degrees. For the past three years, the culinary manager has served as the president of the culinary Occupational Advisory Committee to help the school make decisions on equipment and training materials to enhance the students' experience. Prior to COVID-19, Masonic Village at Lafayette Hill's food services department hosted students from Philabundance and Job Corps and provided feedback on the programs. They look forward to reigniting the program in the future.
Outreach & Home Assistance
Funded through generous contributions, the Masonic Children's Home in Elizabethtown does not charge individuals, organizations, or the state or federal government for its services. It provides a home for up to 40 youth who are being raised by aging grandparents or who come from various social or economic environments which do not provide necessary security and support. Children do not need to have a Masonic affiliation in their family to be eligible for services. In 2020, the Elizabethtown Area School District received $404,953 through reciprocity agreements with the school districts from which the children come to us.
In 2020, $18,711 in pre-kindergarten scholarships were awarded to income-qualified families, thanks to Masonic Villages' participation in the Educational Improvement Tax Credit Program and donations from local businesses. The scholarships supported families attending child care centers in Elizabethtown and Sewickley.
Masonic Village's Outreach Program distributed $21,412 in home assistance support to individuals and families. The program also operates a Durable Medical Loan Equipment Closet, which provides equipment to families on a short-term basis at no cost. We supplied wheelchairs, walkers, canes, shower chairs and other equipment to 15 individuals in 2020.
Community members at any stage of life can find assistance at Masonic Villages. Last year, in Elizabethtown, an average of nine individuals, including community members and Masonic Village residents, participated in the monthly Dementia Caregiver Support & Education Group. The group met in person until March and via Zoom from October through December. Masonic Village contributed approximately $943, including 24 hours of staff time, materials and classroom space, toward this support group.
The Bereavement Support Group, which normally gathers in Elizabethown, Mount Joy and Lancaster, suspended meetings for 2020.
Many Masonic Villages residents are active in the community. Last year, residents contributed to service projects that benefited children, students, older adults, emergency service providers and those with food and housing insecurities.
Masonic Village at Dallas residents participated in an Adopt a Road project to help clean up nearby Country Club Road and volunteered at the Back Mountain Food Pantry, along with donating nonperishable goods and $4,006 to support its mission. They also contributed $500 and pet supplies to Blue Chip Farm Animal Refuge, a zero-kill organization, located in Dallas. In Lafayette Hill, residents donated puzzles and books to Fox Chase Cancer Center and clothing and other miscellaneous items to Whosoever Gospel Mission, the Salvation Army and the National Federation for the Blind.
A dozen members of Masonic Village at Sewickley's PLARN (plastic yarn) group knit plastic mats for the New Life Community Church in Pittsburgh, which donates them to homeless individuals. A group of residents also knit blankets, robes and hats for Project Linus, a national nonprofit organization which donates blankets to children in hospitals, including the Shriners Hospitals for Children; shelters; social service agencies; or anywhere a need arises. They donated 124 blankets and 71 quilts in 2020.
Through the sales of handmade floral arrangements, jewelry, blankets, cards, gift bags and much more, the Craft Group at the Masonic Village at Elizabethtown raises money to support others. In 2020, they donated proceeds to numerous Masonic and community charities, including $2,000 to each Northwest EMS and Friendship Fire & Hose.
Masonic Village at Elizabethtown resident Nancy Balmer knit 70 hats, which she donated to Sell Chapel's Outreach program. The hats were shared with the Christmas Shop, run through the EBIC Elizabethtown BIC Church and ECHOS. After recovering from cancer and then caring for her daughter, who passed away after a battle with cancer, Nancy asked herself why she survived when so many others do not. She realized she still had an unfulfilled purpose and has been knitting ever since, including hats for soldiers serving overseas and Veterans Health Administration (VHA) – U.S. Department of Veterans Affairs Hospitals.
The Grey Lions of Elizabethtown, Masonic Village's Penn State alumni interest group, awarded five $1,000 scholarships in 2020 to deserving Penn State students: Brecken Musser, Catherine Duncan, Ashley Deck, Caitlin Deck and Logan Vogelsong.
Resident Jane Taggart's granddaughter, Emily Bonsall, planned to show and sell her pig in the Elizabethtown Fair in 2020. When the fair was canceled, Jane purchased the pig from her granddaughter, and worked with Masonic Village's food services department to come up with a way to share it with her fellow residents. Proceeds of $1,290 from Pork BBQ for a Cause were donated to the Elizabethtown Fair to buy three new pens for young farmers to use at future fairs.
Residents of the Bleiler Caring Cottage participated in several community service projects, including collecting food for ECHOS and Community Cupboard of Elizabethtown. Twice a month, they cleaned up trash at the Elizabethtown Train Station and/or Wolgemuth Community Park. For the 10th year, they also participated in Share-A-Card, providing 600 Christmas cards for terminally ill individuals across the country.
Supporting Those with Food Insecurities
Masonic Village at Elizabethtown's Garden Club sponsored a "Victory Garden" initiative in which garden volunteers planted produce in all available gardens to donate to campus restaurants, residents (including the Masonic Children's Home and Bleiler Caring Cottage), staff and the Community Cupboard of Elizabethtown. Thanks to donations from residents, the Retirement Living Resident's Association also presented $12,170 to the Community Cupboard to support their mission. During a Village Encore Band concert on March 1, a collection of $500 was taken on behalf of Community Cupboard. Sell Chapel provided $5,000 to the First Church of God of Elizabethtown in April for its food pantry's bagged lunches.
Supporting those experiencing food insecurities around the world, Masonic Village's Walk Together for Hunger was held on Oct. 17 in Elizabethtown. The annual community CROP Walk was cancelled, so the spiritual care department organized the walk for staff and residents to raise money and awareness for this worthy cause. The event raised $765 for CROP International and the Community Cupboard.
Community Benefits Financial Summary
In 2020, Masonic Villages proudly provided $34.6 million of charitable care and services across Pennsylvania in 2020. This amount consists of approximately $9.9 million (at cost) of free care and services and $24.7 million (at cost) for care and services above the amount reimbursed by Medicare, Medicaid and other third party payers.
In addition, Masonic Villages contributed more than $410,532 in scholarships, donations to local emergency services providers, internships and community assistance to our neighbors in Dallas, Elizabethtown, Lafayette Hill, Sewickley and Warminster.