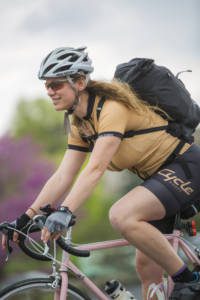 An hour-and-a-half commute might seem like an annoyance to most people, but Marcia Blome looks forward to it. It helps that she doesn't have to deal with traffic jams since she's making the trip on her bicycle.
For the past two years, on most Mondays, she leaves her house in Wrightsville around 6 a.m. in order to make the 18-mile trek to Masonic Village at Elizabethtown, where she works as an admissions assistant, by 7:30 a.m.
She has two school-age children, so it's not always feasible, but she committed to riding in every week in May since the bike shop she and her husband own is doing a challenge in recognition of National Bike Month.
For Marcia, bicycling elicits happy childhood memories, which have turned into a lifelong passion.
"I remember that first ride on my purple Huffy with the banana seat with my dad running behind me holding on so I wouldn't fall," she said. "I didn't even know when he let go until I turned my head around and saw I was riding on my own. That was right before I fell over, but I got back up and the rest is history!"
In 2010, after having two children, Marcia started riding with a more serious commitment. At the time, she lived in Mount Joy, so it was a short 7.5-mile commute to Masonic Village. She eased into to it, but eventually, she was doing 10-15 mile rides at one time.
As she was able to ride longer distances, learned proper road etiquette (including how to fix a flat tire) and had some years of experience under her belt, she developed the confidence to mentor others on their cycling journey. She leads "coffeehouse" rides through her bike shop and supports other ride leaders who do the same. When she's not at Masonic Village, she's a barista at The Cycle Works Coffee House and enjoys treating riders to recovery drinks after their rides.
Cycling to work or any long distance is a time commitment, as well as a physical challenge, but Marcia has several reasons why it's a priority in her life.
"The heart of my 'why' are my three guys," she said, referring to her husband and two sons. "I always want to be able to keep up with all of life's adventures. The 'why' that motivates me to get on my bike is food. I love to cook and eat and need to keep life balanced. The 'why' that keeps me on my bike is self-esteem gained from accomplishing things I never thought possible. The unintended 'why' is almost spiritual. I am constantly reminded of the beauty of the earth and the gift of life and the fresh perspective that I am part of a bigger plan."
The Blome family leads a Family Rail Trail Ride on the first Saturday of each month. They keep it at a kid-friendly pace and have riders who span all generations.
Whether commuting to work or riding with your family, cycling has physical, mental and spiritual benefits. Start out slow, set goals and enjoy the journey!
 The Masonic Village at Elizabethtown's Baird Wellness Center coordinates "Group Meet Ups" for walking, running and biking. They provide maps, routes, local competitions and the contact information of others interested in meeting up to exercise. Any staff or residents who are interested may call the wellness center at 717-361-5699 and provide their contact information and agreement to share it with the group.