Northwest EMS saves countless lives each year, but not without, at times, putting their own personnel at risk. Community Cupboard of Elizabethtown is seeing increased needs in the community, while also experiencing a drop in donations.
In years' past, Masonic Villages has printed and distributed its Report to the Community. In an effort to "go green," this year's report is only available online. Masonic Villages is donating the money saved on production costs to charitable organizations across Pennsylvania.
 A $3,500 donation was made to Northwest EMS for its bullet-resistant vest campaign, and a $2,800 donation was made to Community Cupboard on behalf of Masonic Village at Elizabethtown.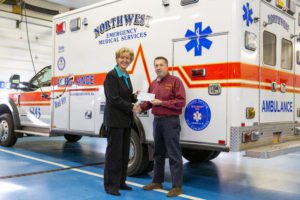 Northwest EMS operates four stations and serves a population of over 55,000 residents in 15 municipalities. They respond to more than 20 calls per day, on average, while also offering education and prevention services in the community. Annually, they respond to approximately 700-800 calls on Masonic Village's campus.
Masonic Village's donation will be used to purchase bullet-resistant vests for crew members, fulfilling the remainder of the organization's $30,000 campaign. Recognizing the growing hazards to its EMTs and paramedics as opioid use and active shooter threats increase, Northwest EMS prioritized the need to provide bullet-resistant vests for all its crews.
"Masonic Village and its residents have always helped with our campaigns, and the entire community really took this one to heart," Scott Kingsboro, executive director, said. "Our providers are really close with those in the community, like family. They're seen as everyday heroes."
In addition to supporting the bullet-resistant vest campaign, Masonic Village donates $18,000 annually to Northwest EMS. The Retirement Living Resident Association and other resident groups also make financial donations.
Community Cupboard is an emergency food program of the United Churches of the Elizabethtown Area. Donations are received from local churches, community organizations, businesses and individuals. On average, it serves 195 individuals per month, 25 percent of which are seniors. Needs are increasing, and in 2018, donations dropped.
In October, the food pantry relocated to a larger space in the Community Place on Washington. It also houses a winter shelter, Elizabethtown Community Housing and Outreach Services, financial counseling, medical services and other resources. It's a one-stop shop for the community and will enable the food pantry to serve more families.
"This donation will help many of our neighbors in need," said Melissa Rhoads, director, Community Cupboard. "When our food donations dip, we use our monetary donations to get us through the slow months to purchase food for our clients."
"Masonic Village at Elizabethtown is so fortunate to be part of a community that works together to address the needs of its residents and provides help to one another," Cindy Phillips, executive director, said. "We're proud to support Northwest EMS in its efforts to safely serve the community and Community Cupboard as they make sure families have enough food to put on the table each day."
 In 2017, between awarding scholarships to teen volunteers, donating to local emergency service providers, hosting interns and many other efforts, Masonic Villages gave back more than $778,800 in support to the Dallas, Elizabethtown, Lafayette Hill, Sewickley and Warminster, Pa., communities, while also providing charitable care and services worth $48.9 million. For Masonic Villages' full Report to the Community, visit our website.