One way we keep our skills sharp and our professional enthusiasm high is to welcome students into our department. The Music Therapy Department has taught hundreds of students in the past 17 years. This year alone, two high school students completed externships, eight Elizabethtown College students completed clinical experience, one graduate student from Immaculata University completed a 100-hour practicum and one student completed her 1,000-hour affiliate internship. In addition, over 50 certified nursing assistant, nursing, social work, occupational therapy and recreation therapy students observed our music therapy groups.
Olivia Sallavanti volunteered in music therapy for two summers, then joined us full-time in May. She shared the following as she completed her time with us at the beginning of December:
"I have spent the last six months as a Music Therapy Intern here at Masonic Village. During this time, I have come to learn so much about my field of study. Beyond that, however, I have come to develop a new perspective on life through the people with whom I have had the honor to work. I see coworkers with a love and passion for what they do, and residents with such wisdom, who find joy in sharing that with others. I strive to carry that passion in my own life every chance I get.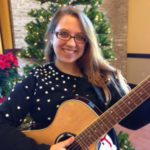 Connections were made in the most surprising way. During my time here, I have built so many relationships and had numerous experiences that I will always cherish. One particular instance presented itself in such an unexpected manner. We had a gulele (a guitar that is similar in size to a ukulele) donated to the Music Therapy Department. To my horror, in the process of trying to tune it, the bridge came off and was in need of repair. Larry McArthur or "Mac," a gentleman form campus, was called in, and fortunately, he was able to fix it. As we began to talk, I mentioned my last name. To my utter surprise, Mac not only knew, but had worked closely with my grandfather for years. Through this amazing discovery, I was able to have my grandparents come for a visit. They spent hours reconnecting, and I had chills knowing that I had been a part of this unexpected reunion.
It has been a privilege and an honor to learn and work here for the past six months. The relationships I have developed will stay with me always. I am so thankful for the amazing people I have worked with, and words aren't enough to truly express that. As I move on to the next part of my journey, I will take all that I have learned and use it to soar.
Based on her personality, knowledge and skills, Olivia was offered a job as an Activities Coordinator at a local retirement community; where she will undoubtedly share her wonderful gifts as a music therapist and all the skills she developed here at Masonic Village!